August Program: Michael Tardif - Veteran, Naturalist and Plant Philosopher
Michael Tardif Bio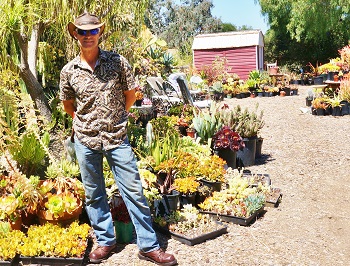 Recently, Linda Holub and I had the opportunity to spend the morning with Michael Tardif at Plant Picasso Landscaping at his Hawk's Creek Ranch home in Newbury Park. While seated in the old "Elephant Barn", which harkens back to the time when retired Barney and Bailey circus people lived on the property, we had an opportunity to get to know Michael and his philosophy on landscaping.
The interview is not at all of what we expected. His philosophy is to rid yourself of your cell phone, lap top and notepad and open your mind to new possibilities. Michael has lived at Hawk's Creek with his wife Irene for 25 years. About 11 years ago he realized how much gardening could help people emotionally and through common sense, patience and sympathy, transform ones outlook on life. Through gardening with succulents his motto, "you can have the rainbow and save the rain".
Michael will alleviate your fears of landscaping and will inspire you to jump right in to develop a landscape uniquely your own.