October Program: Gary Duke - What Kind of Cactus Is It?
Gary Duke Bio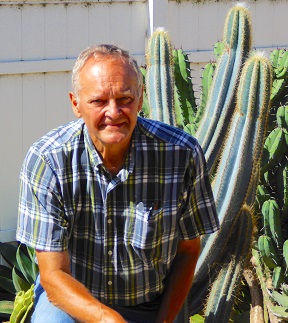 Gary Duke believes that anyone interested in cacti ought to be able to determine what genus a cactus plant belongs in just by examining it and looking for a few telltale signs. What do you look for? Come, learn and find out. If you know the genus, then you have a clue to the growth characteristics and flowers a plant will have. You will know if someone switched the name tags at your favorite box store. This is a tutorial on many of the small globular cacti families and their identifying characteristics – will it be tall or short and squat, will it have big or small flowers, is it from North America or South America? If you don't like cacti, well he has lots of pretty cactus flowers to look at. Come and learn.
Gary Duke has been collecting cacti and succulents since he was 10 years old. He is a retired Air Force officer with a doctoral degree in physics. During his military career, he moved his original and ever expanding collection of less than about 30 plants from Illinois, where he grew up, to Omaha, NE, Dayton, OH (where he started their first C&S Society, which is now defunct), San Pedro, CA, Montgomery, AL and Albuquerque, NM where he had been show chairman. He has also been President of the South Coast Cactus and Succulent Society and the Long Beach Club in the southern California area. He was recently elected to the Board of Directors to the Cactus and Succulent Society of America. Following his military career, he worked as a program manager for Boeing for 16 years. He's an avid collector of cacti and also collects Tylecodons and Dudleyas. He has over 1000 different species in his private collection and enjoys propagating them. He frequently gives slide presentations throughout southern California.